Replacement motherboards for ZX Spectrum
The following boards have been refurbished and tested by myself, as follows:
Replaced original electrolytic capacitors with new ones.
Modded to output composite video signal - for best picture and compatibility with newer TVs.
Cleaned edge / tape connectors etc.
Tested on RAM-test loop for 2 hours
Loaded games from tape
Connected and tested expansion connector with SMART Card
Checked keyboard input
Notes:
The thumbnail photos are generic images, for illustration only.
All boards have original Sinclair ULA chips.
If you'd like the board supplied with a reset switch soldered on and a heatsink attached to the ULA (IE: for use in a Spectrum Plus case) please buy the "Spectrum+ upgrade" item.
Products:
Click on the product thumbnail for an enlarged view.
Sinclair Spectrum 48K Motherboard Issue 2
Re-capped and composite modded.
Note: Issue 2 boards are less suited to fitting in a Spectrum Plus case due to the size/position of the heatsink (the heatsink can be modified, or removed entirely if a switch-mode voltage regulator is fitted).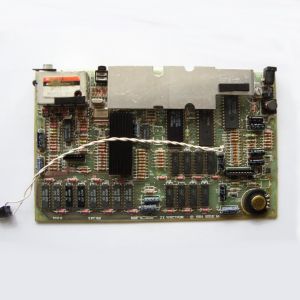 Spectrum+ Upgrades
When this item is purchased with a Spectrum motherboard, I'll supply the board prepared for the Spectrum+ case as follows:
Heatsink installed on ULA chip
Reset switch soldered to PCB appropriately.
If you have bought more than one motherboard please indicate which one you'd like modifying.