Chips for Amstrad CPC Computers
Products:
Click on the product thumbnail for an enlarged view.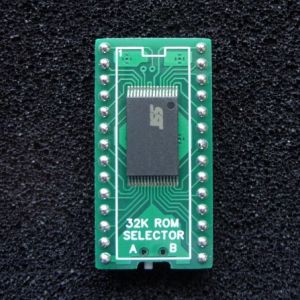 Switchable Replacement ROM Module for Amstrad CPC464 etc
Can hold two 32KB ROM images, selected using a small onboard switch.
Handy for running diagnostic programs.
To use in an Amstrad machine you'll need to desolder the original ROM chip (eg: 40009,40015,40025) and preferably fit the 28 pin DIL socket supplied. The ROM module can then be plugged in.
Module has medium size round pins so as not to over-stress DIL sockets.
You'll need to send me the ROM images that you require programmed onto the unit via email after purchase - I cannot locate them for you. The module cannot be supplied blank because it requires a special interface for the EPROM burner.
The module can also be used in practically any board that will take a 28-pin 27C256 type 32KB EPROM - it can also replace 16KB EPROMs where host circuit takes a 27(C)128 type chip. More information here. (It's essentially the same as the 32KB ROM switcher listed under the Spectrum128 parts, except this has the switch at the top instead of the bottom - which is irrelevent in the Amstrads).
Note: this version is not compatible the 16/48K Spectrum - I have ROM module tailored to its PCB in the Spectrum Chips section.